You are here

More Record Highs - October 16, 2017
More Record Highs - October 16, 2017
Submitted by Aspect Wealth Management on October 16th, 2017
More Record Highs
October 16, 2017
Last Friday, all 3 major domestic indexes continued their streak of weekly gains and record highs. The S&P 500 added 0.15%, and the Dow was up 0.43%. Meanwhile, both indexes posted their 5th weekly gain in a row. In addition, the S&P 500 and Dow each hit intraday trading records on Friday. The NASDAQ also increased 0.24%, ending on a record high with a 3rd straight week of growth. International stocks in the MSCI EAFE rose as well, gaining 1.61% for the week.
What drove market performance last week?
We received a number of new reports last week, including data showing jumps in the Producer Price Index, Consumer Price Index, and Retail Sales. Recovery efforts from hurricanes contributed to the gains in all three of these readings. And they could continue to affect the markets for a while.
In addition to this new data, two key events contributed to the markets' continuing growth: 1) a positive start to earnings season and 2) high consumer sentiment numbers.
1. Earnings Season Started Strong
Companies have started releasing their 3rd quarter earnings reports, and so far, 87% of them beat bottom-line expectations. Corporate earnings have been strong since Q4 2016, and this quarter will likely continue that trend. However, the growth rate may not match what we have seen for the past few earnings seasons.
2. Consumer Sentiment Hit 13-Year High
After 8 years of economic growth, many consumers are feeling more content about their circumstances. The University of Michigan's consumer sentiment poll for September revealed that consumers held positive perspectives overall-across income, age, and political spectrums. Last month's reading has the highest consumer sentiment since 2004.
We believe that the ongoing record highs we are witnessing are a good reminder to not let headlines or fear drive your financial choices. This year has certainly provided a variety of geopolitical drama to distract from the economic fundamentals. Nonetheless, in 2017, U.S. share prices have gained $3 trillion in value so far. At the same time, investors have taken $45 billion out of their ETFs and mutual funds - essentially missing this market rally.
Investors exit markets for myriad reasons. But when emotion drives choices, rather than true strategy, those decisions can have a lasting affect on long-term goals. If you have questions about how the markets are performing - or what choices you should be considering right now - we are always here to talk.
Economic Calendar
Tuesday: Industrial Production, Housing Market Index
Wednesday: Housing Starts
Thursday: Jobless Claims
Friday: Existing Home Sales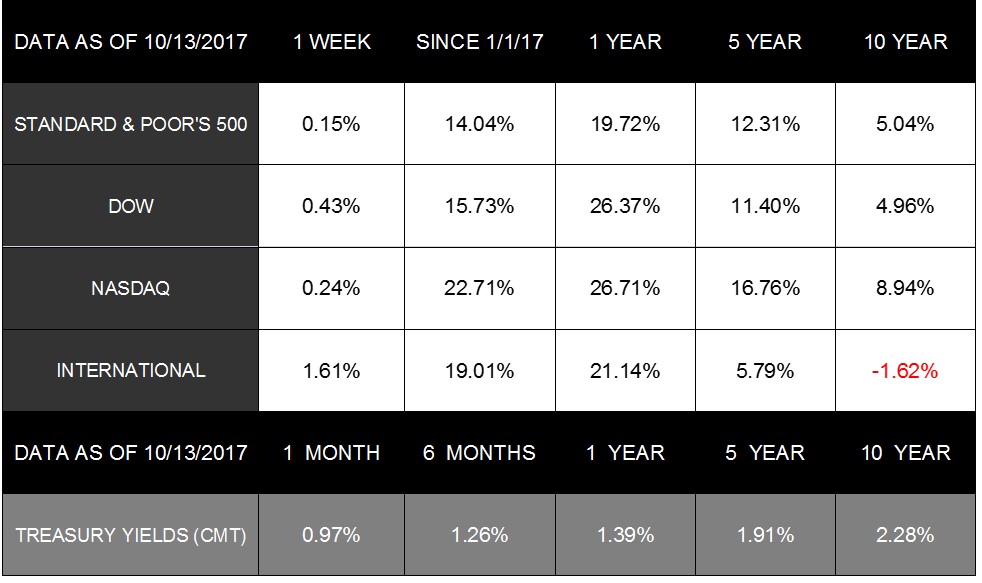 Notes: All index returns (except S&P 500) exclude reinvested dividends, and the 5-year and 10-year returns are annualized. The total returns for the S&P 500 assume reinvestment of dividends on the last day of the month. This may account for differences between the index returns published on Morningstar.com and the index returns published elsewhere. International performance is represented by the MSCI EAFE Index. Past performance is no guarantee of future results. Indices are unmanaged and cannot be invested into directly.
Copyright © 2017. All Rights Reserved.
* Securities and advisory services offered through Cetera Advisor Networks LLC, member FINRA/SIPC. Some advisory services also offered through Aspect Wealth Management, a Registered Investment Adviser. Cetera is under separate ownership from any other named entity.
* Investing involves risk including the potential loss of principal. No investment strategy can guarantee a profit or protect against loss in periods of declining values.
* Diversification does not guarantee profit nor is it guaranteed to protect assets.
* The Standard & Poor's 500 (S&P 500) is an unmanaged group of securities considered to be representative of the stock market in general.
* The Dow Jones Industrial Average is a price-weighted average of 30 significant stocks traded on the New York Stock Exchange and the NASDAQ. The DJIA was invented by Charles Dow back in 1896.
* The Nasdaq Composite is an index of the common stocks and similar securities listed on the NASDAQ stock market and is considered a broad indicator of the performance of stocks of technology companies and growth companies.
* The MSCI EAFE Index was created by Morgan Stanley Capital International (MSCI) that serves as a benchmark of the performance in major international equity markets as represented by 21 major MSCI indexes from Europe, Australia and Southeast Asia.
* The Dow Jones Corporate Bond Index is a 96-bond index designed to represent the market performance, on a total-return basis, of investment-grade bonds issued by leading U.S. companies. Bonds are equally weighted by maturity cell, industry sector, and the overall index.
* The S&P/Case-Shiller Home Price Indices are the leading measures of U.S. residential real estate prices, tracking changes in the value of residential real estate. The index is made up of measures of real estate prices in 20 cities and weighted to produce the index.
* The 10-year Treasury Note represents debt owed by the United States Treasury to the public. Since the U.S. Government is seen as a risk-free borrower, investors use the 10-year Treasury Note as a benchmark for the long-term bond market.
* Google Finance is the source for any reference to the performance of an index between two specific periods.
* Opinions expressed are subject to change without notice and are not intended as investment advice or to predict future performance.
* Past performance does not guarantee future results.
* You cannot invest directly in an index.
* Consult your financial professional before making any investment decision.
* Fixed income investments are subject to various risks including changes in interest rates, credit quality, inflation risk, market valuations, prepayments, corporate events, tax ramifications and other factors.
* These are the views of Platinum Advisor Marketing Strategies, LLC, and not necessarily those of the named representative, Broker dealer or Investment Advisor, and should not be construed as investment advice. Neither the named representative nor the named Broker dealer or Investment Advisor gives tax or legal advice.
* All information is believed to be from reliable sources; however, we make no representation as to its completeness or accuracy. Please consult your financial advisor for further information.
* By clicking on these links, you will leave our server, as they are located on another server. We have not independently verified the information available through these links and they are provided to you as a matter of interest. Please click on a link below to leave and proceed to the selected site.
http://performance.morningstar.com/Performance/index-c/performance-return.action?t=!DJI®ion=usa&culture
http://performance.morningstar.com/Performance/index-c/performance-retur...
http://performance.morningstar.com/Performance/index-c/performance-retur...
https://www.cnbc.com/2017/10/13/us-stocks-earnings-season-wall-street.html
https://www.msci.com/end-of-day-data-search
http://www.ftportfolios.com/Commentary/EconomicResearch/2017/10/12/the-p...
http://www.ftportfolios.com/Commentary/EconomicResearch/2017/10/13/the-c...
http://www.ftportfolios.com/Commentary/EconomicResearch/2017/10/13/retai...
https://www.cnbc.com/2017/10/13/us-stocks-earnings-season-wall-street.html
http://www.marketwatch.com/story/consumer-sentiment-surges-to-13-year-hi...
https://www.bloomberg.com/news/articles/2017-10-13/even-bulls-getting-le...
http://www.goodhousekeeping.com/food-recipes/easy/a35781/moroccan-spiced...
https://www.irs.gov/newsroom/tips-for-individuals-who-need-to-reconstruc...
https://www.golfdigest.com/story/start-every-putt-on-a-great-line
https://www.webmd.com/oral-health/guide/teeth-gum-care#1